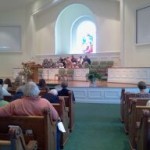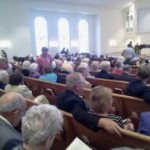 Zoar Baptist Church held its first worship service inside the beautifully rebuilt sanctuary on Sunday, September 8, 2013.
Many of you remember the April 16, 2011 tornado which destroyed the church building, Deltaville's Community Center and pool, along with over 30 homes in Deltaville. After two and a half years of careful planning and preparation , the congregation of Zoar along with hundreds of community friends, spent several hours worshipping, dedicating the new building and rejoicing together. Visitors who joined in the celebration included the church architects, contractors and many pastors from around the state.
I took a few pictures with my cell phone which I have posted here for you to see. These don't really do justice to the sanctuary's beauty, so please come for a visit.
Thank you to all who have donated time and funds to help our community rebuild. The completion of Zoar's sanctuary brings joy and encouragement to our entire town.
Please make time to stop by Zoar Baptist Church. We would love to give you a 'tour'. Pastor John Snow welcomes everyone.
You are also welcomed to join us for Bible Study at 9 AM and Worship Hour at 10 AM every Sunday morning.