Fun gifts, clothing and accessories are available in the Boaters' Boutique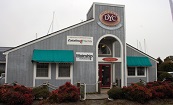 Deltaville Yachting Center Ship's Store can help you with your "snack attack". Come in for sodas, candy and salty snacks.
Our Parts Department is well stocked with Yanmar, Cummins and Mercruiser specific parts plus a variety of impellers, zincs, belts, gaskets, batteries and other supplies to service your boat. 1-2 day turn around on special orders.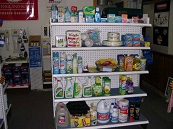 We are always interested in stocking Ship's Store items that make your boating experience more enjoyable. You will find a section of convenience items for your galley, medicine chest, and personal hygiene needs. We have everything from Dramamine to fly swatters… we aren't Walmart, but we will keep 1 or 2 of each item in stock to keep you from having to go very far for the little things you may need.

You'll find sunscreen lotions and sunglasses to protect you from the sun's rays. There are several styles of boater's hats in the Ship's Store: ladies hats with scrunchies attached, sun screen hats with neck protectors, and new colors of DYC boaters' caps. The store carries many styles of DYC T-shirts and sweatshirts including sailor's T-shirts with Forespar's Race Signals on the front, designed to be read as you look down at your chest!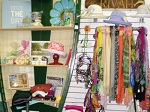 DYC Boaters' Boutique is a popular shopping stop for boaters and locals alike. Expect wonderful pricing on clothing, bathing suit cover ups, Walleroo 50 UPF hats, accessories, jewelry, shoes, reading glasses, Gill 50 UPF self wicking shirts, gift items and more! DYC Ship's Store is open year round, with Boaters' Boutique in full swing from April 1st to Christmas.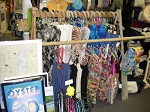 DYC Ship's Store stocks all types of dock lines and safety equipment. We can order specialty equipment for quick delivery – life rafts, inflatable life vests, individual flares, special fenders, anchors and anchor rodes. Give us a chance to beat the best price you find!!
Call or email DYC Parts Manager, Laura Powell at (804) 776-9898 or laura@dycboat.com and let her be your personal shopper. She is a "Parts Pricing Diva"!