News and Events

Marina

Service & Parts

Boat Sales

Cruiser's Section

About Us
Meet Our Chesapeake Yacht Sales Brokers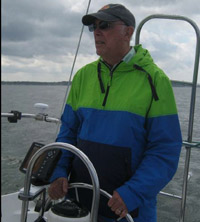 Carl Hawkins, Broker
Cell 804-387-5786
Office 804-776-9898
carl@cysboat.com
Few people get to make their passion their employment. From the first time Carl went with his Dad, as a very young child, to fish on one of the TVA lakes he was hooked on the water and all things above and below it. His family's move to Virginia expanded his love of salt water. Carl has owned and still owns wood, aluminum, and fiberglass boats, both power and sail, and collects antique outboard motors. Carl's boating experience includes sailboat racing (and winning) on Sunfish style, catamarans, day sailors and coastal cruising boats. He is now able to live full time on a beautiful creek just off of the magnificent Chesapeake Bay and make his living as a Yacht Broker.
Carl and his wife have been members of Stingray Harbour Yacht Club for over 16 years. They have both held many offices in the club and are the only husband and wife team to hold Commodore positions. Carl is currently going into his second year as Commodore.
"My commitment to the club and passion for boats and the water is the same commitment and passion you will find if you allow me to work as your Yacht Broker. Whether I am selling your boat or helping you find your next vessel you will have my undivided attention and many years of experience working for you. I look forward to getting to know you and to also help enrich your boating experience."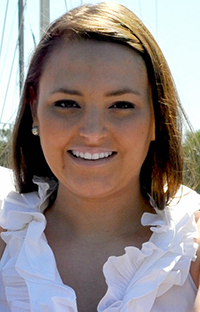 Cori Williams, Broker
Cell 804-366-8461
Office 804-776-9898
cwilliams@dycboat.com
Cori Williams has enjoyed the water and being around boats since she could walk. Born in Hampton, Va. Cori spent every weekend at her grandparents' house on Gwynns Island in Mathews, VA. When she was two her family moved to Mathews and her love for the water started to grow. She quickly learned that her Pee-Paw would take her to the beach or out on his fishing boats, with just a tug on his shirt. Every summer was spent doing water activities.
Cori joined the Mathews High School crew team in 7th grade. Being the smallest girl on the team didn't stop her. She raced every scull out there- single, double, quad and even 8 person. She rowed in school for 5 years, up and down the East Coast and even into parts of Canada… being on the water from sunrise to sunset some days.
When Cori was 9 years old, her father had a well-known Deltaville gentleman- Alvin Sibley- build a custom 42' wooden deadrise. The boat is still in the family. Cori and her husband, Chet, go out on the deadrise as much as possible. In 2012,they had the pleasure of introducing their 9 month old son to the water by taking him out on the boat for the very first time.
Cori has been employed at Deltaville Yachting Center since 2011. Cori's experience in marketing, advertising, social media, graphic design & brokerage administration adds to her skills as a broker. Cori is energetic and eager to help sell your boat or find your next one.
Cori Williams currently lives on the water, in the house that started it all, at Gwynns Island in Mathews, VA. with her husband, son, and many animals.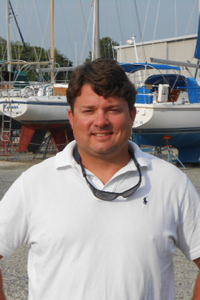 Nathan Snead, Broker
Cell 252-305-2845
Office 804-776-9898
Nathan@dycboat.com
Nathan's love of the water started many years ago on the Chesapeake. He learned to sail on an 11 1/2 foot O'day Swift at the impressionable young age of six. Impressionable he must have been, because he's never been able to wash away that salt water. Even before that he started fishing on his grandfather's 26′ Penn-Yann around the Bay Bridge islands. Nathan's first boat was a Catalina Capri 14.2. He spent many a day sailing the Swift Creek Reservoir, and the Bay off of Chicks Beach. Since then he has owned quite a few sailboats, and powerboats from little daysailors and skiffs to big cruisers.
Nathan went off to college at East Carolina University and started spending his summers on Hatteras Island. Noticing that his wallet was a bit skinny he took to working on offshore fishing boats. He finally finished up his undergrad career and kept on fishing, but he missed sailing, so he bought an old Irwin 37′ with plans to sail off to the ends of the earth. Luckily for him he met Stephanie just before he left. He singlehanded his sailboat from Hatteras to Key West, after a visit from Stephanie he realized he must head back north if he wanted to keep her. A little more fishing, back to ECU for a Masters, a big wedding, and things were moving right along. They opened a sailing shop in Hatteras, renting sailboats, kayaks, surfboards, bicycles, and teaching people how to use them all. As if they weren't busy enough they started a big ol family, now with three daughters, Ella, Nancy, and Anne Mitchell. Once Anne Mitchell was on the way, they decided to move to Richmond to be closer to all the grandparents. After a suit and tie job for a while, the lure of the water was too much. The river looked like a good place, plenty of water, lots of boats, close to family, so they moved to Urbanna.
Nathan's background in working on fishing boats, and living and cruising on sailboats gives him a unique insight into all types of boats. Nathan Snead's boating experience gives him a wealth of knowledge to pass on to Chesapeake Yacht Sales boaters who are looking for the right boat, or need to sell their current boat.