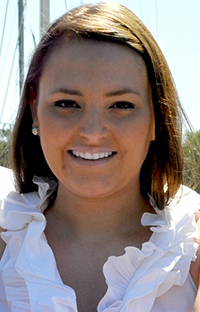 Cori Williams, Broker
Cell 804-366-8461
Office 804-776-9898
cwilliams@dycboat.com
Cori Williams has enjoyed the water and being around boats since she could walk. Born in Hampton, Va. Cori spent every weekend at her grandparents' house on Gwynns Island in Mathews, VA. When she was two her family moved to Mathews and her love for the water started to grow. She quickly learned that her Pee-Paw would take her to the beach or out on his fishing boats, with just a tug on his shirt. Every summer was spent doing water activities.
Cori joined the Mathews High School crew team in 7th grade. Being the smallest girl on the team didn't stop her. She raced every scull out there- single, double, quad and even 8 person. She rowed in school for 5 years, up and down the East Coast and even into parts of Canada… being on the water from sunrise to sunset some days.
When Cori was 9 years old, her father had a well-known Deltaville gentleman- Alvin Sibley- build a custom 42' wooden deadrise. The boat is still in the family. Cori and her husband, Chet, go out on the deadrise as much as possible. In 2012,they had the pleasure of introducing their 9 month old son to the water by taking him out on the boat for the very first time.
Cori has been employed at Deltaville Yachting Center since 2011. Cori's experience in marketing, advertising, social media, graphic design & brokerage administration adds to her skills as a broker. Cori is energetic and eager to help sell your boat or find your next one.
Cori Williams currently lives on the water, in the house that started it all, at Gwynns Island in Mathews, VA. with her husband, son and daughter, and many animals.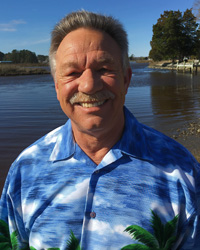 Wayne Clarke, Broker
Cell 757-621-0888
Office 804-776-9898
Wayne@cysboat.com
Wayne Clarke was born in a small community in the County of Mathews, Virginia, well known for sea-captains, merchant marines and commercial waterman.   Wayne was introduced to the Chesapeake Bay and its surrounding tributaries at a very early age, by his father, who was a sailor in the U.S. Navy.
He comes from a long line of commercial fisherman and sailors. During school breaks Wayne helped his brother in law, clamming in the James River. He bought his first boat after high school and became a commercial waterman himself.
Wayne says, "It was hard work and long hours, but when you love what you do, it becomes a passion".
Wayne also worked on ocean going trawlers harvesting scallops in the Atlantic, learning about navigation skills and Mother Nature on a larger scale. After 20 years on the water, Wayne decided to hang up his foul weather gear and pursue a career in the automotive sales.   "I love talking with people, solving problems and assisting them throughout the sales process."
Wayne had a desire to combine his two previous careers of sales and waterman , as yacht broker for Chesapeake Yacht Sales. He not only brings his sales skills but his passion and love for the boating community.
He lives with his wife, Lynn, on the North River in Mathews County and is still an avid boater and fisherman. "I am very excited about this unique opportunity, I look forward to providing the best possible service to all and I wish everyone, Fair Winds and Following Seas".