Deltaville Yachting Center was awarded the 2019 Best of the Bay Award in the following categories:
Best Boatyard
Best Va Clean Marina
Best Pet Friendly Marina
Best Marine Electronics Shop

Deltaville Yachting Center was awarded the 2018 Best of the Bay Award in the following categories:
Best Boatyard
Best Va Clean Marina
Best Pet Friendly Marina
Best Marine Electronics Shop

Deltaville Yachting Center was awarded the 2017 Best of the Bay Award in the following categories:
Best Resort Marina
Best Boatyard
Best Eco-Friendly Marina
Best Fuel Dock
Best Engine Shop
Best Marine Electronics Shop

Deltaville Yachting Center was awarded the 2016 Best of the Bay Award in the following categories:
Best Boatyard
Best Marina For Natural Environment
Best Engine Work
Best Electronic Work

Deltaville Yachting Center was awarded the 2015 Best of the Bay Award in the following categories:
Best Small Marina
Best Boatyard
Best Marina For Natural Environment
Best Engine Work
Best Electronic Work
Best General Repairs

Deltaville Yachting Center was awarded the 2014 Best of the Bay Award in the following categories:
Best Mom & Pop Marina
Best for the Environment
Best Boatyard
Best Engine Work
Best Electronic Work
Best Fuel Dock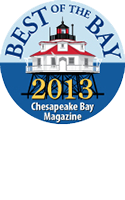 Deltaville Yachting Center was awarded the 2013 Best of the Bay Award in the following categories:
Engine Work
Boatyard
Mom & Pop Marina
Best Marina for the Natural Environment
Fuel Dock
Dog Friendly
Canvas/Sail Work
Electronics Work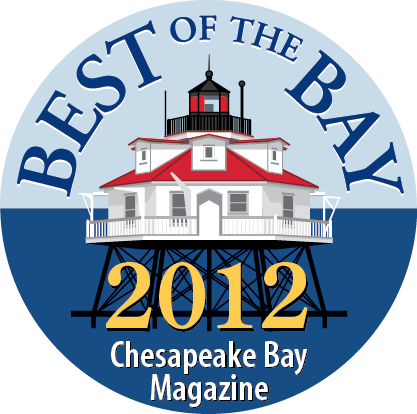 Deltaville Yachting Center was awarded the 2012 Best of the Bay Award in the following categories:
Engine Work
Boatyard
Mom & Pop Marina
Best Marina for the Natural Environment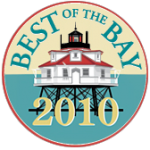 Deltaville Yachting Center was awarded the 2010 Best of the Bay Award in the following categories:
Engine Work
Boatyard
Mom & Pop Marina
Best Marina for the Natural Environment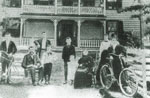 The Schooner Years
From 1872 to 1979, the property along the south branch of Broad Creek now known as Deltaville Yachting Center, was the "home place" to schooner Captain David A. Taylor, Sr., his wife, Nannie Saunders Taylor, and their 7 children. Schooners, deadrises and work boats anchored nearby.

Taylor's Marina
At the age of 82, the Taylors' son, Dellie, and his wife, Gladys Mercer Taylor, built Taylor's Marina. In 1964 they began to care for boats belonging to fishermen and sailors visiting Deltaville from Richmond, VA.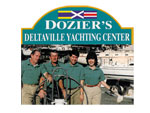 Doziers' Marine
In 1979, Jack and Craig Dozier purchased the property and developed it into Doziers' Marine. The Dozier name continues to be associated with boating on the Chesapeake .

Deltaville Yachting Center
The marina, boatyard and enclosed Boatel was renamed in 2001 by its new owners/managers, Lew and Onna Grimm. In 2003, Deltaville Yachting Center became Middlesex County's first 'Virginia Clean Marina.'

With nine acres and 1,000 feet of waterfront, Deltaville Yachting Center has provided 40 years of storage for thousands of boats.
The well run enclosed Boatel has been catering to the needs of fishermen and women for 25 years. The open and covered slips allow for wet storage of sailboats and power boats alike. The clubhouse and picnic area have seen boater gatherings since the 1970's.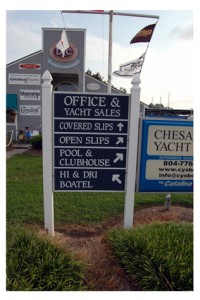 For many years, Deltaville Yachting Center's efficient service and parts department has treated every boater with respect and every boat as if it were their own. A team of professional, well trained marine technicians work safely to provide the answers and service that boaters need. Deltaville Yachting Center was named #1 Marina "Best Kept Secrets of River County" for 2006, 2007, 2008 and #1 Customer Service Dealer Worldwide by Albin Marine.
Located at Deltaville Yachting Center and owned/managed by Lew and Onna Grimm, Chesapeake Yacht Sales has a long reputation of helping boaters follow their dreams. Deltaville Yachting Center and Chesapeake Yacht Sales are power, sail and trawler specialists for both service and sales. Chesapeake Yacht Sales is Virginia's full line dealer for all models of new Catalina Yachts. Selling and servicing Catalina Yachts combined with years of experience as past dealers for Mainship Trawlers, Albin Marine, and Carolina Classic helps Chesapeake Yacht Sales continue a 25 year history as the area's largest yacht brokerage.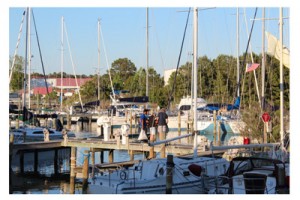 Both Deltaville Yachting Center and Chesapeake Yacht Sales have a history that revolves around boaters and boat service.
Come get to know us in person – we look forward to being a part of your boating history.