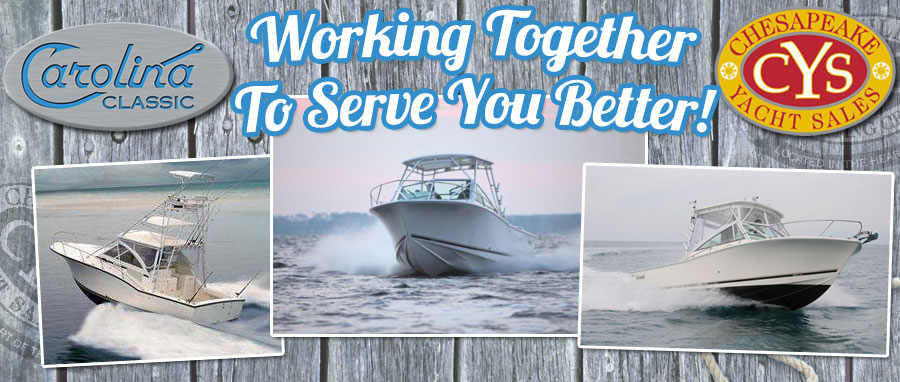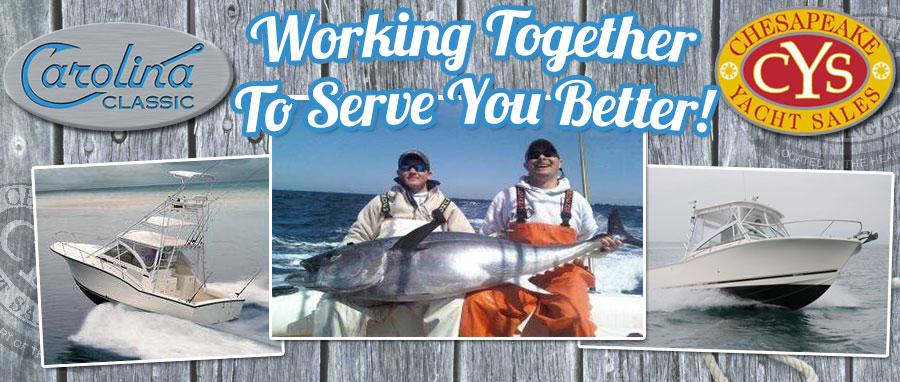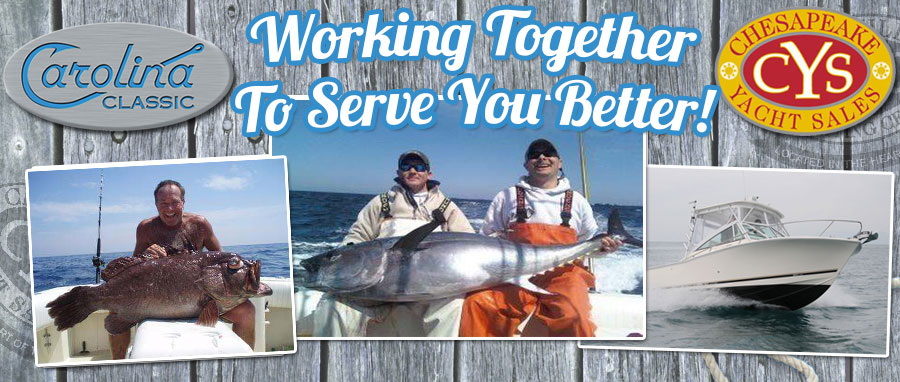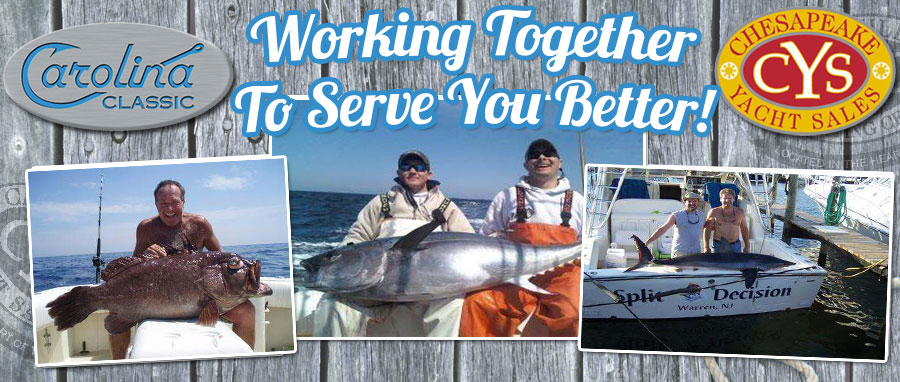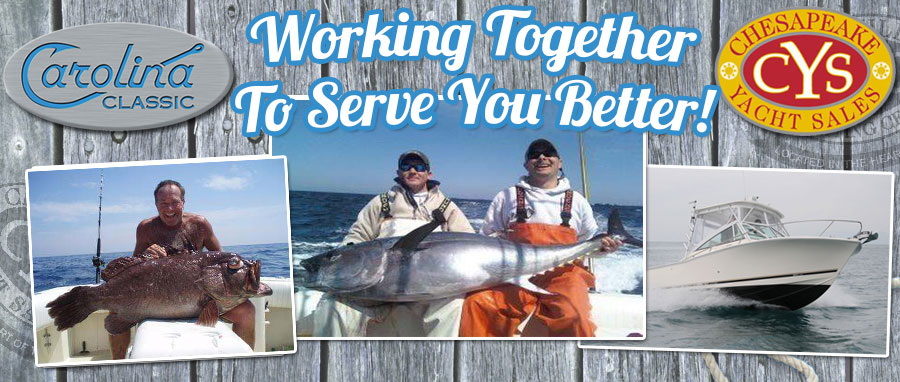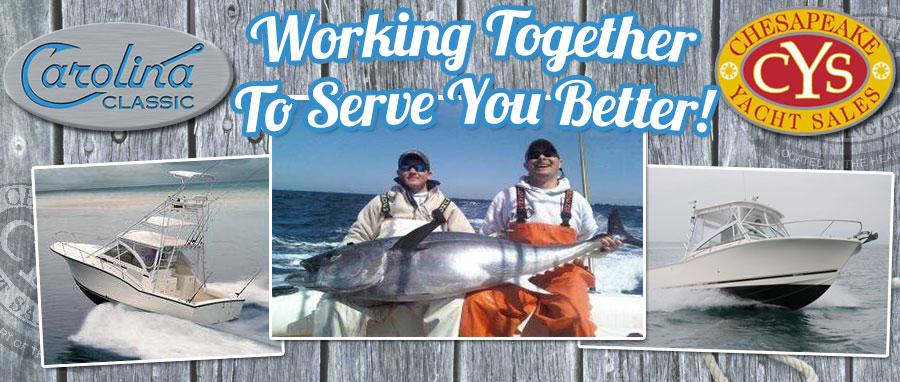 News and Events

Marina

Service & Parts

Boat Sales

Cruiser's Section

About Us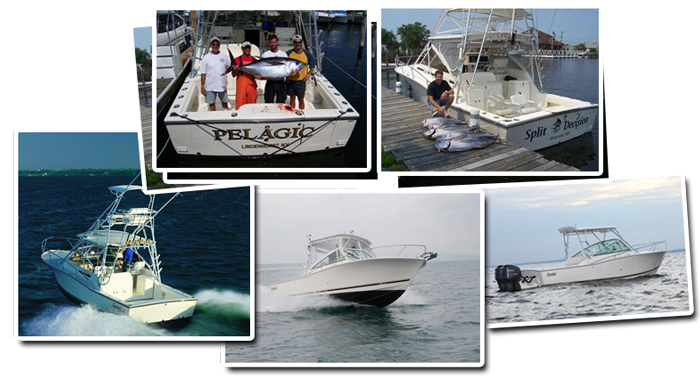 Big fish live in big water. It takes a special character to hunt in this environment –a soul that you'll find inbred in every Carolina Classic boat. The big wide flair of the bow pushes out the waves and gives a soft re-entry. Whether she's taking it on the nose, shouldering a cornering sea, or running downhill with a following sea, she's at home. And so are you.
No compromise on basic issues. Like putting the over-sized air intakes above the shear so the engines won't clog from sucking salt air. The oversized engine compartment allows easy access to all sides of the engines. A unique tunnel bilge system keeps all the equipment clean and dry. The reliable hatch piston easily raises the helm deck, and holds it open in a fixed position—even in a rolling sea. And she's fast. You'll find cruising speeds faster than other boats in her class and remarkable fuel efficiency. She's built to handle a variety of big block power options so you can choose the right power for your fishing conditions.
Her oversized, uncluttered cockpit dance floor is free of engine boxes, hardware, seats, or anything else that might snag a line or break a toe. You can even add a fighting chair or leaning post. The top line fishing gear comes built-in: the recessed stainless rod holders, the outriggers, the fish boxes, the rigging station. Everything well organized and perfectly located. Amenities all serious saltwater fishermen expect. You can easily customize electronics to suit your preferences. The helm console can handle large screen displays. And it folds down to give easy access to all the wiring and fusses. Comfortable amenities, too. DVD, flat panel TV, stereo sound, and full galley provide the creature comforts for long outings.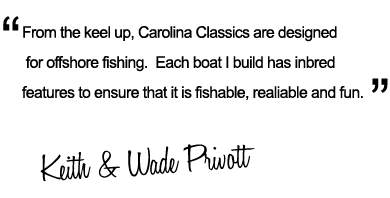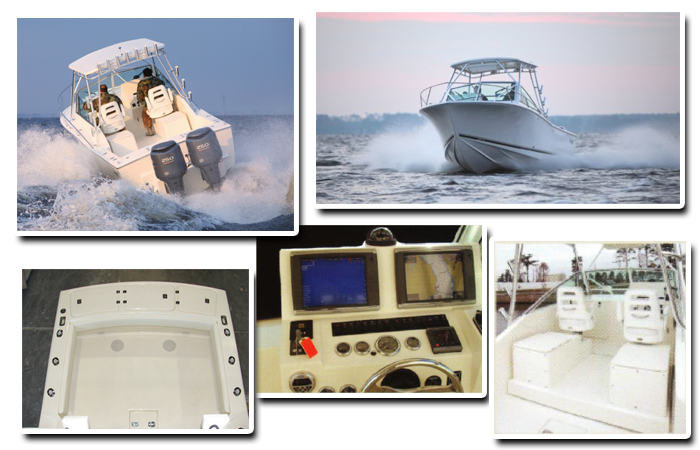 As the only trailerable Carolina Classic, the 25 lets you enjoy true offshore fishing anywhere you want to go. She's lean, but also lethal. Make no mistake, she's an offshore thoroughbred. Her distinctive, flared bow, unitized construction, amidships power and deep-V bottom let her handle just about any condition a sport fisherman faces. She's fast and agile, but with an incredibly soft entry. A combination that makes her truly a pleasure boat. Forward is a full-sized cuddy cabin with V-berth, secure rod storage, a stowable electric head and a storage locker. If you fish through the weekend, you can also have an optional galley with refrigerator, microwave and table. Her fishability has been tuned to perfection. Spacious, flush cockpit. Long-range fuel capacity. High, wide gunwales for easy 360-degree access around the boat. Recessed hawse pipes and rod holders keep lines free of interference. Plus a convenient, large live well/fish box right on the transom.
She's an inboard available with gas or diesel big block power, which makes her a popular choice with charter captains. And now with fuel-efficient Yahama outboards.
Exceptional power, economy and range provided by gas or diesel inboard or outboards up to 600 hp.
Spacious 38 sq.ft.cockpit with transom fishbox and livewell.
Standard 160 qt.transom fishbox and two optional 180 qt. helm deck boxes provide an incredible 520 qts of ice and fish storage.
Customizable helm deck layouts allow owners to choose from tackle cabinets, ice boxes and fishboxes.
Large dash capable of accomodating two 12″displays.
Full sized v-berth, electronic head, optional galley and lockable rod storage.
Electrical Features (click to expand)
Helm Station (click to expand)
Mechanical Features (click to expand)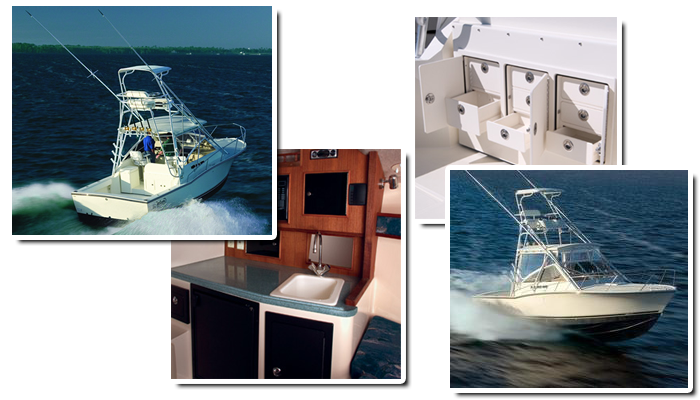 This is a powerful, efficient offshore fishing vessel, loaded with big boat features that make 40 footers envious.
She's a machine totally designed and precisely built for one purpose: Offshore trophy fishing. Fast and dry. Plenty of working room, storage, bait and fish boxes. Because fishing conditions vary, we offer a combination of twin engine diesel power packages, with long-range fuel capacity for all. Plenty of living room, too. A cabin with six feet of head room. V-berth with filler. Galley with microwave, sink, refrigerator and table. Full walk-in electric head with shower. And storage areas throughout.
Redundant systems. Amazing speed. Thick skin. And a lethal punch. Everything serious fishermen demand.
Electrical Features (click to expand)
Mechanical Features (click to expand)
Helm Station (click to expand)
Head Features (click to expand)
Cockpit Features (click to expand)
Cabin Features (click to expand)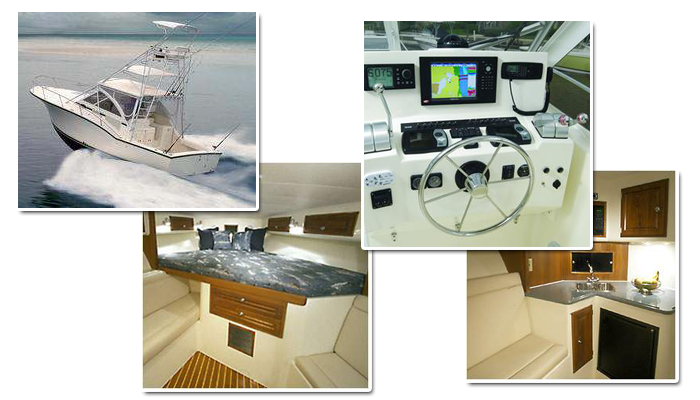 The newest member of the Carolina Classic family, the 32 boasts all top-of-the-line features that serious offshore fishermen demand. And speed and performance that leave the other boats in her wake.
She sports a huge 80 square foot, flush deck cockpit. The helm console is spacious enough for state-of-the-art large-screen electronics. She has a full-beam tackle and rigging station, twin 50-gallon fish boxes (optional freezer system available), and optional transom live well.
The large helm deck seats six while the salon below features a full galley. The large stand up electric head and shower, double berth and seven foot bunk make this one of the most comfortable boats you'll ever fish. She's a pocket battleship that will win the fight.
Electrical Features (click to expand)
Mechanical Features (click to expand)
Head Features (click to expand)
Helm Console (click to expand)
Cockpit Features (click to expand)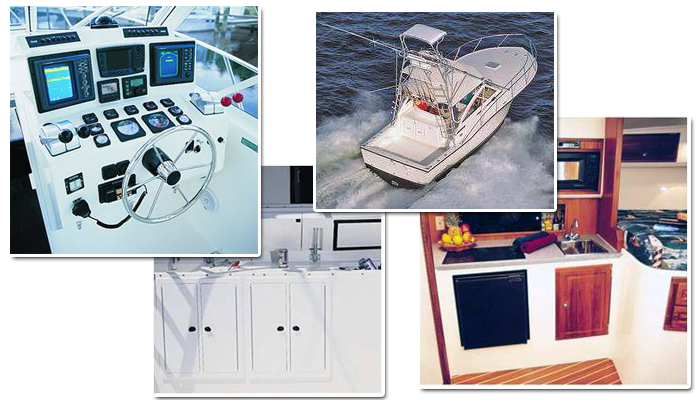 From the comfortable detailed appointments in the cabin to the efficient power plant humming below, every inch of the 35 reflects its rugged offshore heritage. The fact is, there is very little else that any comparable or larger class sport-fishing boat can offer. The proven design, construction, craftsmanship and attention to detail is all integrated into the flagship Carolina Classic 35. The result brings you predictable reliability, performance and value for the dollar. And speeds in excess of 40 mph.
The huge cockpit is uncluttered. The spacious helm deck L-lounge has plenty of comfortable seating for the crew. Below, you'll find convenience and comfort in the air-conditioned cabin, including 6'4″ of headroom, a fully appointed galley, entertainment center and electric head with shower. In short, all the features you'd find a larger boat, except the big cost.
Helm Console (click to expand)
Mechanical Features (click to expand)
Electrical Features (click to expand)
Forward Berth (click to expand)
Cockpit Features (click to expand)
Helm Deck (click to expand)
Main Cabin (click to expand)