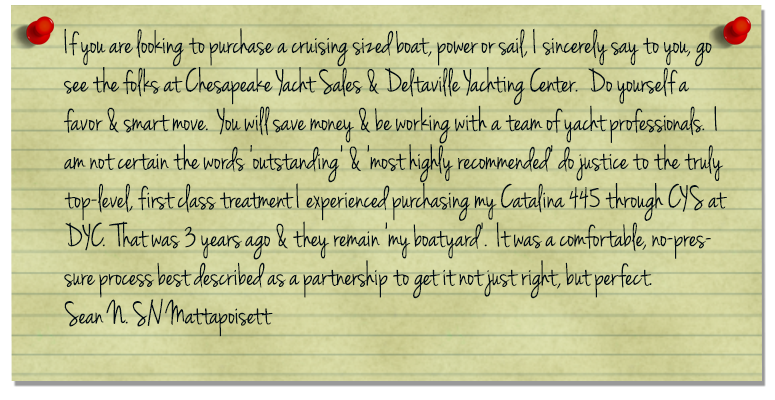 Chesapeake Yacht Sales Brokerage Services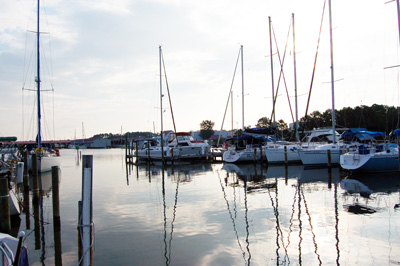 WHY LIST OR BUY WITH CYS? We Work for You!
With 25 years at Deltaville Yachting Center, Chesapeake Yacht Sales is well known on the East Coast. At Chesapeake Yacht Sales our friendly brokerage team specializes in taking the stress out of buying or selling your boat. We have excellent sales performance and years of experience in the sale of new and used sail and power boats. Chesapeake Yacht Sales delivers total market presence. We enthusiastically advertise in local, regional and national publications, multiple internet site listings including Yacht World and Boats.com, boatshows and Constant Contact email blasts. We compile a complete picture collection of your boat and a detailed listing sheet which we present to interested buyers. Chesapeake Yacht Sales hosts 2 annual open house boat shows ,along with 3-5 free boating educational events at DYC to promote boating and brokerage listings.
WHY LIST OR BUY WITH CYS? The Sales Professionals!
Click here to meet our brokers
Chesapeake Yacht Sales has full time sales professionals on site to show your boat seven days a week. Our brokerage team is available to answer buyers questions and coordinate all details related to closing the sale. Our staff consists of seasoned sales personnel with years of sales and hands-on boating experience. Using our multiple listings and industry contacts, we cooperate extensively with other brokerage companies who have clients looking for a boat like yours. Chesapeake Yacht Sales brokers are professionals who maintain the high standards of Yacht Brokers Association of America (YBAA). Deltaville Yachting Center and Chesapeake Yacht Sales are members of American Boat & Yacht Council (ABYC).
WHY LIST OR BUY WITH CYS? Pre-Owned Boats!
Click Here for Used Power Boat Inventory
Click Here for Used Sail Boat Inventory
Chesapeake Yacht Sales has a large inventory of brokerage boats on display at Deltaville Yachting Center which attracts buyers. We have many years of buyer contacts and consistent 'walk in traffic' at Deltaville Yachting Center, which is a popular marina located in the heart of the Chesapeake Bay. Dockage and boatyard exposure at Deltaville Yachting Center is available for all listed boats.
WHY LIST OR BUY WITH CYS? Sell Your Boat!
Click here and complete Trade In Evaluation
When you list your boat with us, we will personally analyze your boat and give recommendations on how to prepare your boat for sale and maximize your boats' position in the market. We have proprietary access to national sold boat statistics, a variety of book values, and comparables to assist in pricing your vessel correctly to achieve maximum interest and a quick sale.
We will sell many boats this year – yours could be next.
WHY LIST OR BUY WITH CYS? Find Your Next Boat!
Click here and complete Looking For A Boat
Can't find the "right" boat? We have access to thousands of boats for sale all over the U.S. Give us a call and let our experts guide you to the right boat. We are committed to becoming your advocate in the search for a boat and once you select a vessel, we act as your agent to negotiate the best possible price. Chesapeake Yacht Sales brokerage professionals will assist you with a yacht survey and sea trial and help interpret the survey results. Deltaville Yaching Center's Service Department is located on site and repair estimates can be received quickly to expedite your decision.
WHY LIST OR BUY WITH CYS? New Boat Dealers!
Click Here for Listing of New Boats Available For Order
As Virginia's established dealer for Catalina Yachts(as well as Mainship Trawler, Albin Marine and Carolina Classic Specialists)- Chesapeake Yacht Sales maintains strong relationships with our customers throughout ownership and also with the manufacturers of each new boat. Deltaville Yachting Center and Chesapeake Yacht Sales maintain a 100% CSI rating with our surveyed new boat customers. Chesapeake Yacht Sales was named #1 in Customer Service Worldwide by Albin Marine. Our factory trained service team ensures on time new boat delivery to your specifications. Deltaville Yachting Center's marine technicians and service management coordinate maximum warranty care when required. Expect detailed communication throughout the new boat commissioning and delivery.
Chesapeake Yacht Sales offers free detailed quotes on all our new yacht lines to assist you with your decisions. Our trained professionals can help with a free analysis to determine whether new or used is best for you.
WHY LIST OR BUY WITH CYS? Dedication to You!
We make the buying and selling process simple, efficient and quick. We offer buyer's assistance with financing and surveying, insurance, documentation and registration services. For your convenience, we have a full service marine repair department on site at Deltaville Yachting Center to provide estimates for electronics, extras and upgrades. Many sales customers decide to rent a slip or boatel space at Deltaville Yachting Center and become long term friends. Chesapeake Yacht Sales is 100% dedicated to our customers. Relax and let us work hard to earn your business. We'll handle the entire transaction from start to finish.
I am glad that I selected CYS to sell my Catalina 310.  I must recognize the work that Cori Williams did. She was on top of everything & maintained a positive 'can do' attitude.
Words will never adequately express my gratitude for the kindness & generosity everyone at DYC & CYS has shared with me.
…it was a pleasure dealing with Chesapeake Yacht Sales. My wife and I are extremely pleased and look forward to fantastic sailing on the bay.
We named our Catalina 385, Makani, Hawaiian for wind. She was commissioned by Deltaville Yachting Center. We sail her on the lower Chesapeake. She sails like a dream- 7.3 knots on a close reach in 13.3 knot wind. She is a beautiful boat & people often say so. We appreciate her sailing performance with many functional details & design choices relating to topside layout & sailing equipment. Below deck has a beautiful functional design as well. Our compliments to Catalina Yachts for this brilliant design & integration of all aspects.  DYC did a topnotch job commissioning her, including electronics, equipment and canvas. They have been excellent to work with throughout. Really great people with a carefully chosen tech, office & CYS brokerage team. Highly knowledgeable & capable on all fronts.  S/V Makani
We attended the Annapolis Boat Show and stepped onto the Catalina 315.  We were surprised by the beautiful layout & high attention to detail.  Many of the boats we had seen in this size range had an almost antiseptic quality about them, the Catalina interior had the feel of a much more expensive boat.  The utilization of space, the teak cabinetry, walls & accents & even hardware quality were superior to what we expected.  We had not planned to buy a boat that day, but when we stepped onto the 315, we knew it was the boat for us.  S/V Cappricc
My wife & I bought a new Catalina 315 from Chesapeake Yacht Sales at Deltaville Yachting Center.  Our prior boat was a 1990 Catalina 30.  The new 315 is named 'Naut Yet' to remind us that we were not yet prepared to give up sailing.  The 315 is small enough that I can single hand it but large enough to fit the grandkids & family.  It is both a day sailer & a cruiser.  Fortunately we are able to dock it where we bought her.  We receive impeccable service for winterization & spring commissioning. It is not out of the question that we could go for another if I retire…perhaps it will be 'Naut Questioned'.  S/V Naut Yet
Contact one of our brokers for more information:
Buying & Selling with CYS