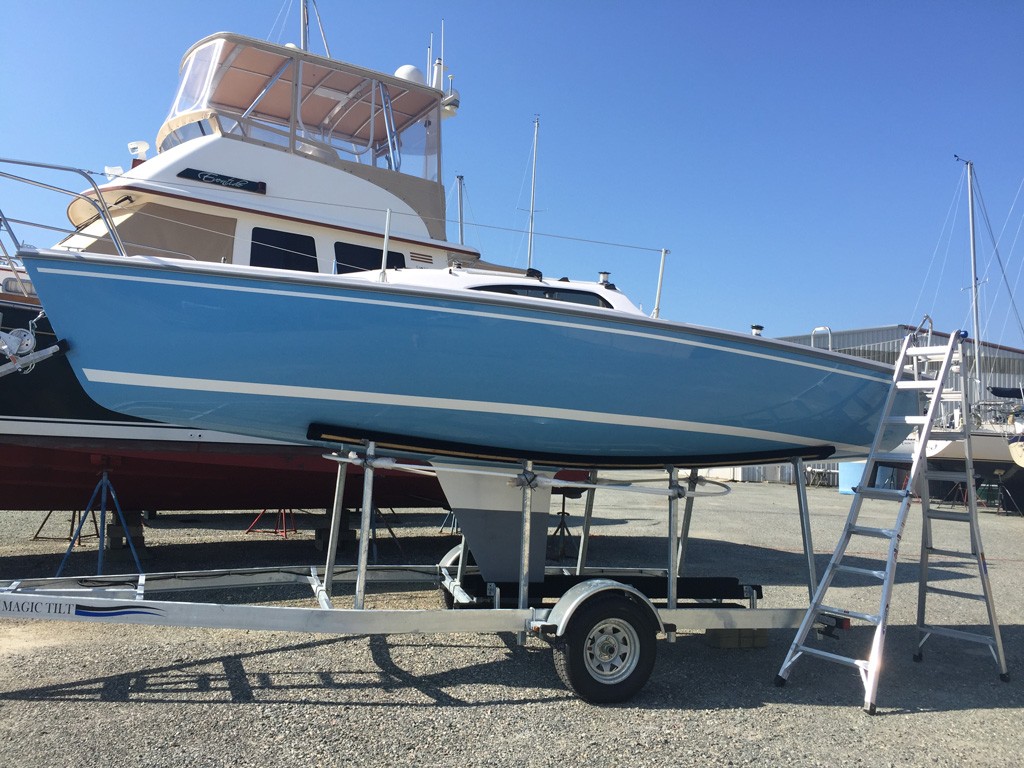 Chesapeake Yacht Sales has a very excited customer this week! His BRAND NEW 2017 Catalina Capri 22 Fin Keel has arrived from Florida. With a brand new Catalina purchase, you receive onboard training to get to know your new vessel, first year boatyard storage and haul/wash/block/relaunch compliments of Chesapeake Yacht Sales along with years of customer service (Maybe one of the reason's CYS was voted 'BEST PLACE TO BUY A NEW BOAT' by Reader's Choice- Coastal Virginia Magazine)
Catalina 22 is Catalina Yachts' first and longest running model.
The Catalina Capri 22 is known for its sweet sailing performance in nearly all conditions, the Catalina Capri 22 has been winning sailors since its introduction. The current model is a major design update that has made the Capri 22 more comfortable, safer at sea and easier to maintain than the original. The striking new deck profile is flared across the stern and has wider cockpit curves for crew comfort during and after sailing. Under the full reclining length seats is a new storage locker and separate battery locker. Maintaining one-design hull and rigging still allows for increase in efficiency and reduction on effort. Halyards now raise the sails with less effort, thanks to the elimination of deck turning blocks. A 12 volt electrical system with control panel offers all the conveniences of information and entertainment at the touch of a switch.
Chesapeake Yacht Sales is Virginia's dealer for Catalina Yachts.
Interesting fact, Catalina Yachts was founded in 1969 by Frank Butler in California. Catalina Yachts is one of the largest boat manufacturers in the world, with over 80,000 boats manufactured to date.