News and Events

Marina

Service & Parts

Boat Sales

Cruiser's Section

About Us
The Boatyard at Deltaville Yachting Center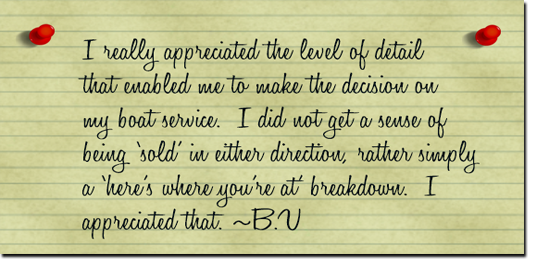 Broad Creek Chart
DYC Slip Chart
Deltaville Yachting Center has a clean 4 acre gravel boatyard that is suitable for:
Customers who want to do their own repairs and maintenance
Customers who want to store their boat during the winter or long term storage
Customers who prefer to have Deltaville Yachting Center perform service work and maintenance
Our travel lift is rated for 50 tons and can accommodate beams up to 19 ½' and boat lengths to 60' depending on make of the vessel.
Rates to haul, wash, block and relaunch:
$6.50 per foot for boats less then 40'
$7.50 per foot for boats 40' and larger
$2.00 per foot if additional straps are required
$4.50 per foot for short haul: includes 1 hour in slings with no blocking
1 FREE night at a slip upon arrival
1 FREE night at a slip before departure
Rates to store and park:
Yard storage fee per month – $110.00 or $15.00/day
Yard storage fee for annual contract slip customers – $75.00
RV overnight parking rates – $15 per day
Car storage rate while you cruise – $25 per month
Click here for full service rates.
Click here to schedule a haul out.
Click here to register for Storm Haul Out List.
Outside Contractors Regulations – click here
Boatyard Rules and Regulations – click here