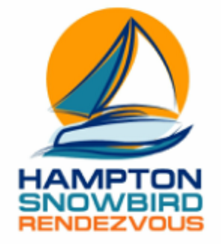 2016 Hampton Snowbird Rendezvous
October 13-16, 2016
Location: Hampton Public Pier
Deltaville Yachting Center/ Chesapeake Yacht Sales are proud sponsors of the Hampton Snowbird Rendezvous!
Join us for three fantastic days of education and cruiser camaraderie at the 2016 Hampton Snowbird Rendezvous!
The Hampton Public Piers is the host dock for HSR. This is a transient facility located within walking distance of Downtown Hampton's historic district, restaurants, and local attractions. Docking for the event is $1.50/foot. Space is limited so reserve your slip soon! Reservations can be made by calling 757-727-1276 or via email at dockmaster@downtownhampton.com.
There are TONS of things to do. Thursday starts registration and then Friday starts the fun with seminars! Learn valuable things and have fun doing it!
Don't Miss two of our own, Lew Grimm's seminar on Saturday October 15 from 8:30AM-9:15AM.